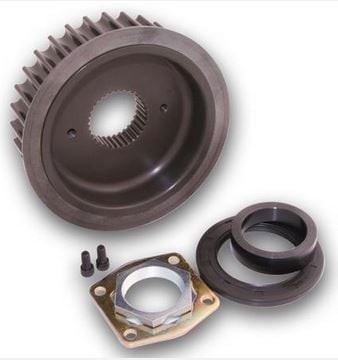 29T BDL 91-03 Transmission pulley sprocket to replace heavy Harley Davidson Sportster Buell 40205-91 40205-95 updated 6/20

All new lightweight 7075 super strong aluminum transmission pulleys weigh about 1/3 as much as stock pulleys for extended 5th gear bearing life

£162.05
Lighter weight means more horsepower to the rear wheel. The pulleys are hard anodized for durability ( 28 & 30 Tooth pulley sizes are available ) by request. They refine tuning of the final drive ratio, also Includes a new spacer, shaft nut, seal and retaining plate with screws.
Made in the USA
Make
Model
Displacement
Year
Country
Engine
Info
Position
BUELL
M2 Cyclone
1199
1997
ALL
64 KW(87 PS)
BUELL
M2 Cyclone
1199
1998
ALL
64 KW(87 PS)
BUELL
M2 Cyclone
1199
1999
ALL
64 KW(87 PS)
BUELL
M2 Cyclone
1199
2000
ALL
64 KW(87 PS)
BUELL
M2 Cyclone
1199
2001
ALL
63 KW(86 PS)
BUELL
M2 Cyclone
1199
2002
ALL
63 KW(86 PS)
BUELL
M2 LOW Cyclone
1199
2002
ALL
63 KW(86 PS)
BUELL
S1 Lightning
1199
1996
ALL
64 KW(87 PS)
BUELL
S1 Lightning
1199
1997
ALL
64 KW(87 PS)
BUELL
S1 Lightning
1199
1998
ALL
64 KW(87 PS)
BUELL
S1 White Lightning
1199
1998
ALL
69 KW(94 PS)
BUELL
S2 Thunderbolt
1200
1995
AMERICA
BUELL
S2T Thunderbolt
1200
1995
AMERICA
BUELL
S3 Thunderbolt
1199
1996
AMERICA
64 KW(87 PS)
BUELL
S3 Thunderbolt
1199
1997
ALL
64 KW(87 PS)
BUELL
S3 Thunderbolt
1199
1998
ALL
64 KW(87 PS)
BUELL
S3 Thunderbolt
1199
1999
ALL
66 KW(90 PS)
BUELL
S3 Thunderbolt
1199
2000
AMERICA
75 KW(102 PS)
BUELL
S3 Thunderbolt
1199
2001
AMERICA
75 KW(102 PS)
BUELL
S3T Thunderbolt
1199
1996
AMERICA
64 KW(87 PS)
BUELL
S3T Thunderbolt
1199
1997
ALL
64 KW(87 PS)
BUELL
S3T Thunderbolt
1199
1998
ALL
64 KW(87 PS)
BUELL
S3T Thunderbolt
1199
1999
ALL
66 KW(90 PS)
BUELL
S3T Thunderbolt
1199
2000
AMERICA
75 KW(102 PS)
BUELL
S3T Thunderbolt
1199
2001
AMERICA
75 KW(102 PS)
BUELL
S3T Thunderbolt
1199
2002
AMERICA
75 KW(102 PS)
Harley Davidson
XL 883 R Roadster
883
2002
ALL
34 KW(46 PS); 39 KW(53 PS); 40 KW(54 PS)
Harley Davidson
XL 883 R Roadster
883
2003
ALL
34 KW(46 PS); 39 KW(53 PS); 40 KW(54 PS)
Harley Davidson
XL 1200 S Sport
1199
1996
ALL
25 KW(34 PS); 36 KW(49 PS); 37 KW(50 PS); 43 KW(58 PS); 45 KW(61 PS); 47 KW(64 PS)
Harley Davidson
XL 1200 S Sport
1199
1997
ALL
25 KW(34 PS); 36 KW(49 PS); 37 KW(50 PS); 43 KW(58 PS); 45 KW(61 PS); 47 KW(64 PS)
Harley Davidson
XL 1200 S Sport
1199
1998
ALL
25 KW(34 PS); 36 KW(49 PS); 37 KW(50 PS); 43 KW(58 PS); 45 KW(61 PS); 47 KW(64 PS)
Harley Davidson
XL 1200 S Sport
1199
1999
ALL
25 KW(34 PS); 36 KW(49 PS); 37 KW(50 PS); 43 KW(58 PS); 45 KW(61 PS); 47 KW(64 PS)
Harley Davidson
XL 1200 S Sport
1199
2000
ALL
25 KW(34 PS); 36 KW(49 PS); 37 KW(50 PS); 43 KW(58 PS); 45 KW(61 PS); 47 KW(64 PS)
Harley Davidson
XL 1200 S Sport
1199
2001
ALL
25 KW(34 PS); 36 KW(49 PS); 37 KW(50 PS); 43 KW(58 PS); 45 KW(61 PS); 47 KW(64 PS)
Harley Davidson
XL 1200 S Sport
1199
2002
ALL
25 KW(34 PS); 36 KW(49 PS); 37 KW(50 PS); 43 KW(58 PS); 45 KW(61 PS); 47 KW(64 PS)
Harley Davidson
XL 1200 S Sport
1199
2003
ALL
45 KW(61 PS)
Harley Davidson
XL 1200 C Sportster Custom
1199
1996
ALL
25 KW(34 PS); 34 KW(46 PS); 36 KW(49 PS); 37 KW(50 PS); 43 KW(58 PS); 45 KW(61 PS); 47 KW(64 PS); 49 KW(67 PS); 50 KW(68 PS)
Harley Davidson
XL 1200 C Sportster Custom
1199
1997
ALL
25 KW(34 PS); 34 KW(46 PS); 36 KW(49 PS); 37 KW(50 PS); 43 KW(58 PS); 45 KW(61 PS); 47 KW(64 PS); 49 KW(67 PS); 50 KW(68 PS)
Harley Davidson
XL 883 C Sportster 53 Custom
883
1998
ALL
20 KW(27 PS); 24 KW(33 PS); 25 KW(34 PS); 34 KW(46 PS); 35 KW(47 PS); 36 KW(49 PS); 39 KW(53 PS); 40 KW(54 PS)
Harley Davidson
XL 1200 C Sportster Custom
1199
1998
ALL
25 KW(34 PS); 34 KW(46 PS); 36 KW(49 PS); 37 KW(50 PS); 43 KW(58 PS); 45 KW(61 PS); 47 KW(64 PS); 49 KW(67 PS); 50 KW(68 PS)
Harley Davidson
XL 883 C Sportster 53 Custom
883
1999
ALL
20 KW(27 PS); 24 KW(33 PS); 25 KW(34 PS); 34 KW(46 PS); 35 KW(47 PS); 36 KW(49 PS); 39 KW(53 PS); 40 KW(54 PS)
Harley Davidson
XL 1200 C Sportster Custom
1199
1999
ALL
25 KW(34 PS); 34 KW(46 PS); 36 KW(49 PS); 37 KW(50 PS); 43 KW(58 PS); 45 KW(61 PS); 47 KW(64 PS); 49 KW(67 PS); 50 KW(68 PS)
Harley Davidson
XL 883 C Sportster 53 Custom
883
2000
ALL
20 KW(27 PS); 24 KW(33 PS); 25 KW(34 PS); 34 KW(46 PS); 35 KW(47 PS); 36 KW(49 PS); 39 KW(53 PS); 40 KW(54 PS)
Harley Davidson
XL 1200 C Sportster Custom
1199
2000
ALL
25 KW(34 PS); 34 KW(46 PS); 36 KW(49 PS); 37 KW(50 PS); 43 KW(58 PS); 45 KW(61 PS); 47 KW(64 PS); 49 KW(67 PS); 50 KW(68 PS)
Harley Davidson
XL 883 C Sportster 53 Custom
883
2001
ALL
20 KW(27 PS); 24 KW(33 PS); 25 KW(34 PS); 34 KW(46 PS); 35 KW(47 PS); 36 KW(49 PS); 39 KW(53 PS); 40 KW(54 PS)
Harley Davidson
XL 1200 C Sportster Custom
1199
2001
ALL
25 KW(34 PS); 34 KW(46 PS); 36 KW(49 PS); 37 KW(50 PS); 43 KW(58 PS); 45 KW(61 PS); 47 KW(64 PS); 49 KW(67 PS); 50 KW(68 PS)
Harley Davidson
XL 883 C Sportster 53 Custom
883
2002
ALL
20 KW(27 PS); 24 KW(33 PS); 25 KW(34 PS); 34 KW(46 PS); 35 KW(47 PS); 36 KW(49 PS); 39 KW(53 PS); 40 KW(54 PS)
Harley Davidson
XL 1200 C Sportster Custom
1199
2002
ALL
25 KW(34 PS); 34 KW(46 PS); 36 KW(49 PS); 37 KW(50 PS); 43 KW(58 PS); 45 KW(61 PS); 47 KW(64 PS); 49 KW(67 PS); 50 KW(68 PS)
Harley Davidson
XL 883 C Sportster 53 Custom
883
2003
ALL
20 KW(27 PS); 24 KW(33 PS); 25 KW(34 PS); 34 KW(46 PS); 35 KW(47 PS); 36 KW(49 PS); 39 KW(53 PS); 40 KW(54 PS)
Harley Davidson
XL 1200 C Sportster Custom
1199
2003
ALL
25 KW(34 PS); 34 KW(46 PS); 36 KW(49 PS); 37 KW(50 PS); 43 KW(58 PS); 45 KW(61 PS); 47 KW(64 PS); 49 KW(67 PS); 50 KW(68 PS)
Harley Davidson
XLH 883 Sportster Deluxe
883
1991
ALL
34 KW(46 PS); 35 KW(47 PS)
Harley Davidson
XLH 1200 Sportster
1199
1991
ALL
25 KW(34 PS); 34 KW(46 PS); 36 KW(49 PS); 37 KW(50 PS); 43 KW(58 PS); 45 KW(61 PS); 47 KW(64 PS); 49 KW(67 PS); 50 KW(68 PS)
Harley Davidson
XLH 883 Sportster Hugger
883
1991
ALL
39 KW(53 PS)
Harley Davidson
XLH 883 Sportster
883
1991
ALL
20 KW(27 PS); 24 KW(33 PS); 25 KW(34 PS); 34 KW(46 PS); 35 KW(47 PS); 36 KW(49 PS); 39 KW(53 PS); 40 KW(54 PS)
Harley Davidson
XLH 883 Sportster Deluxe
883
1992
ALL
34 KW(46 PS); 35 KW(47 PS)
Harley Davidson
XLH 1200 Sportster
1199
1992
ALL
25 KW(34 PS); 34 KW(46 PS); 36 KW(49 PS); 37 KW(50 PS); 43 KW(58 PS); 45 KW(61 PS); 47 KW(64 PS); 49 KW(67 PS); 50 KW(68 PS)
Harley Davidson
XLH 883 Sportster
883
1992
ALL
20 KW(27 PS); 24 KW(33 PS); 25 KW(34 PS); 34 KW(46 PS); 35 KW(47 PS); 36 KW(49 PS); 39 KW(53 PS); 40 KW(54 PS)
Harley Davidson
XLH 883 Sportster Hugger
883
1992
ALL
39 KW(53 PS)
Harley Davidson
XLH 883 Sportster Hugger
883
1993
ALL
39 KW(53 PS)
Harley Davidson
XLH 883 Sportster Deluxe
883
1993
ALL
34 KW(46 PS); 35 KW(47 PS)
Harley Davidson
XLH 883 Sportster
883
1993
ALL
20 KW(27 PS); 24 KW(33 PS); 25 KW(34 PS); 34 KW(46 PS); 35 KW(47 PS); 36 KW(49 PS); 39 KW(53 PS); 40 KW(54 PS)
Harley Davidson
XLH 1200 Sportster
1199
1993
ALL
25 KW(34 PS); 34 KW(46 PS); 36 KW(49 PS); 37 KW(50 PS); 43 KW(58 PS); 45 KW(61 PS); 47 KW(64 PS); 49 KW(67 PS); 50 KW(68 PS)
Harley Davidson
XLH 883 Sportster
883
1994
ALL
20 KW(27 PS); 24 KW(33 PS); 25 KW(34 PS); 34 KW(46 PS); 35 KW(47 PS); 36 KW(49 PS); 39 KW(53 PS); 40 KW(54 PS)
Harley Davidson
XLH 883 Sportster Hugger
883
1994
ALL
39 KW(53 PS)
Harley Davidson
XLH 1200 Sportster
1199
1994
ALL
25 KW(34 PS); 34 KW(46 PS); 36 KW(49 PS); 37 KW(50 PS); 43 KW(58 PS); 45 KW(61 PS); 47 KW(64 PS); 49 KW(67 PS); 50 KW(68 PS)
Harley Davidson
XLH 883 Sportster Deluxe
883
1994
AMERICA
34 KW(46 PS); 35 KW(47 PS)
Harley Davidson
XLH 883 Sportster
883
1995
ALL
20 KW(27 PS); 24 KW(33 PS); 25 KW(34 PS); 34 KW(46 PS); 35 KW(47 PS); 36 KW(49 PS); 39 KW(53 PS); 40 KW(54 PS)
Harley Davidson
XLH 883 Sportster Hugger
883
1995
ALL
39 KW(53 PS)
Harley Davidson
XLH 1200 Sportster
1199
1995
ALL
25 KW(34 PS); 34 KW(46 PS); 36 KW(49 PS); 37 KW(50 PS); 43 KW(58 PS); 45 KW(61 PS); 47 KW(64 PS); 49 KW(67 PS); 50 KW(68 PS)
Harley Davidson
XLH 883 Sportster Deluxe
883
1995
AMERICA
34 KW(46 PS); 35 KW(47 PS)
Harley Davidson
XLH 883 Sportster
883
1996
ALL
20 KW(27 PS); 24 KW(33 PS); 25 KW(34 PS); 34 KW(46 PS); 35 KW(47 PS); 36 KW(49 PS); 39 KW(53 PS); 40 KW(54 PS)
Harley Davidson
XLH 883 Sportster Hugger
883
1996
ALL
39 KW(53 PS)
Harley Davidson
XLH 1200 Sportster
1200
1996
AMERICA
25 KW(34 PS); 34 KW(46 PS); 36 KW(49 PS); 37 KW(50 PS); 43 KW(58 PS); 45 KW(61 PS); 47 KW(64 PS); 49 KW(67 PS); 50 KW(68 PS)
Harley Davidson
XLH 883 Sportster
883
1997
ALL
20 KW(27 PS); 24 KW(33 PS); 25 KW(34 PS); 34 KW(46 PS); 35 KW(47 PS); 36 KW(49 PS); 39 KW(53 PS); 40 KW(54 PS)
Harley Davidson
XLH 883 Sportster Hugger
883
1997
ALL
39 KW(53 PS)
Harley Davidson
XLH 1200 Sportster
1200
1997
AMERICA
25 KW(34 PS); 34 KW(46 PS); 36 KW(49 PS); 37 KW(50 PS); 43 KW(58 PS); 45 KW(61 PS); 47 KW(64 PS); 49 KW(67 PS); 50 KW(68 PS)
Harley Davidson
XLH 883 Sportster
883
1998
ALL
20 KW(27 PS); 24 KW(33 PS); 25 KW(34 PS); 34 KW(46 PS); 35 KW(47 PS); 36 KW(49 PS); 39 KW(53 PS); 40 KW(54 PS)
Harley Davidson
XLH 883 Sportster Hugger
883
1998
ALL
39 KW(53 PS)
Harley Davidson
XLH 1200 Sportster
1199
1998
ALL
25 KW(34 PS); 34 KW(46 PS); 36 KW(49 PS); 37 KW(50 PS); 43 KW(58 PS); 45 KW(61 PS); 47 KW(64 PS); 49 KW(67 PS); 50 KW(68 PS)
Harley Davidson
XLH 883 Sportster
883
1999
ALL
20 KW(27 PS); 24 KW(33 PS); 25 KW(34 PS); 34 KW(46 PS); 35 KW(47 PS); 36 KW(49 PS); 39 KW(53 PS); 40 KW(54 PS)
Harley Davidson
XLH 883 Sportster Hugger
883
1999
ALL
39 KW(53 PS)
Harley Davidson
XLH 1200 Sportster
1199
1999
ALL
25 KW(34 PS); 34 KW(46 PS); 36 KW(49 PS); 37 KW(50 PS); 43 KW(58 PS); 45 KW(61 PS); 47 KW(64 PS); 49 KW(67 PS); 50 KW(68 PS)
Harley Davidson
XLH 883 Sportster
883
2000
ALL
20 KW(27 PS); 24 KW(33 PS); 25 KW(34 PS); 34 KW(46 PS); 35 KW(47 PS); 36 KW(49 PS); 39 KW(53 PS); 40 KW(54 PS)
Harley Davidson
XLH 883 Sportster Hugger
883
2000
ALL
39 KW(53 PS)
Harley Davidson
XLH 1200 Sportster
1200
2000
AMERICA
25 KW(34 PS); 34 KW(46 PS); 36 KW(49 PS); 37 KW(50 PS); 43 KW(58 PS); 45 KW(61 PS); 47 KW(64 PS); 49 KW(67 PS); 50 KW(68 PS)
Harley Davidson
XLH 883 Sportster
883
2001
ALL
20 KW(27 PS); 24 KW(33 PS); 25 KW(34 PS); 34 KW(46 PS); 35 KW(47 PS); 36 KW(49 PS); 39 KW(53 PS); 40 KW(54 PS)
Harley Davidson
XLH 883 Sportster Hugger
883
2001
ALL
39 KW(53 PS)
Harley Davidson
XLH 1200 Sportster
1200
2001
AMERICA
25 KW(34 PS); 34 KW(46 PS); 36 KW(49 PS); 37 KW(50 PS); 43 KW(58 PS); 45 KW(61 PS); 47 KW(64 PS); 49 KW(67 PS); 50 KW(68 PS)
Harley Davidson
XLH 883 Sportster
883
2002
ALL
20 KW(27 PS); 24 KW(33 PS); 25 KW(34 PS); 34 KW(46 PS); 35 KW(47 PS); 36 KW(49 PS); 39 KW(53 PS); 40 KW(54 PS)
Harley Davidson
XLH 883 Sportster Hugger
883
2002
ALL
39 KW(53 PS)
Harley Davidson
XLH 1200 Sportster
1200
2002
AMERICA
25 KW(34 PS); 34 KW(46 PS); 36 KW(49 PS); 37 KW(50 PS); 43 KW(58 PS); 45 KW(61 PS); 47 KW(64 PS); 49 KW(67 PS); 50 KW(68 PS)
Harley Davidson
XLH 883 Sportster
883
2003
ALL
20 KW(27 PS); 24 KW(33 PS); 25 KW(34 PS); 34 KW(46 PS); 35 KW(47 PS); 36 KW(49 PS); 39 KW(53 PS); 40 KW(54 PS)
Harley Davidson
XLH 883 Sportster Hugger
883
2003
ALL
39 KW(53 PS)
Harley Davidson
XLH 1200 Sportster
1200
2003
AMERICA
25 KW(34 PS); 34 KW(46 PS); 36 KW(49 PS); 37 KW(50 PS); 43 KW(58 PS); 45 KW(61 PS); 47 KW(64 PS); 49 KW(67 PS); 50 KW(68 PS)